Danese / Corey announces representation of Ellen Harvey
Ellen Harvey
Arcade/Arcadia, 2012
Hand-engraved mirrors over LED screens, wood frame, 15 x 9 x 30 ft.
(photo: Clay Center for the Arts and Sciences)
originally commissioned for the opening of the Turner Contemporary Gallery in Margate, U.K.
Ellen Harvey
Arcade/Arcadia, 2012
Hand-engraved mirrors over LED screens, wood frame
15 x 9 x 30 ft.
(photo: Locks Gallery)
Ellen Harvey
Crack Paintings, 2016.
Oil on three wood panels
Overall: 47 x 73 inches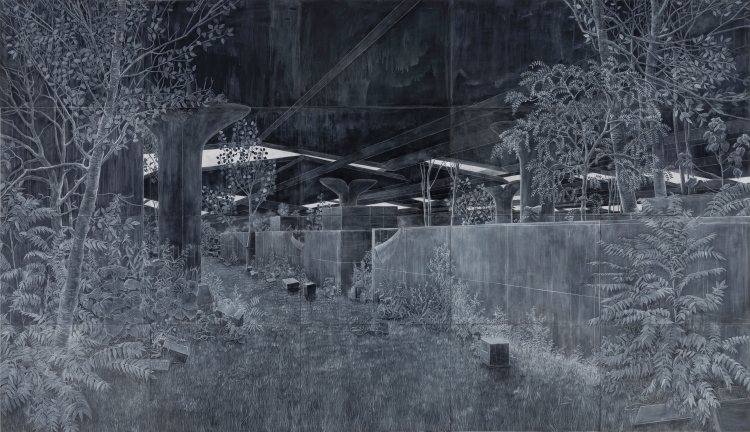 Ellen Harvey
New Forest, 2014
Acrylic, oil and varnish on 20 wooden panels
overall: 92 x 160 in.; each 23 x 32 in.
Ellen Harvey
Two Forests, 2015.
Oil and pressed glue ornaments on 12 framed Clayboard panels
overall, framed: 75 x 149 in.; each panel 24 x 36 in.
Ellen Harvey
Alien Souvenir Stand, 2013
Oil on aluminum, plywood, steel, watercolor on board
8  x 17 x 5 ft.
(photo: Locks Gallery)
Ellen Harvey with Atlantis (in progress), 2017.
Acrylic paint on sixty aluminum panels. 40 x 60″ each
(Photograph: Jan Baracz)
Ellen Harvey is a British-born artist living and working in Brooklyn. She is a 2016 recipient of a John Simon Guggenheim Memorial Fellowship in the Visual Arts and a graduate of the Whitney Independent Study Program. She has exhibited extensively in the U.S. and internationally and was included in the 2008 Whitney Biennial. Solo exhibitions include Metal Painting at the Barnes Foundation in Philadelphia, The Unloved at the Groeninge Museum in Bruges, Belgium, The Alien's Guide to the Ruins of Washington DC at the Corcoran Gallery of Art in Washington DC, The Nudist Museum at the Bass Museum in Miami Beach, Ruins are More Beautiful at the Center for Contemporary Art in Warsaw, Poland, Mirror at the Pennsylvania Academy in Philadelphia and A Whitney for the Whitney at Philip Morris at the Whitney Museum at Altria in New York. She has completed numerous commissions, including Arcadia for the opening exhibition of the Turner Contemporary in Margate, UK and permanent public works for New York Percent for Art, New York Arts in Transit, the Chicago Transit Authority, the Philadelphia International Airport, the Federal Art in Architecture program and the Flemish National Architect. Her Belgian project Repeat, won the Wivina Demeester Prize for Commissioned Public Art in 2016.
She is currently working on Atlantis, a new permanent installation commissioned for the renovation of the Miami Beach Convention Center. Her work has been the subject of several books including New York Beautification Project, published by G. R. Miller & Co. in 2005, Mirror, published by the Pennsylvania Academy in 2006, Ellen Harvey: The Unloved, published by Hannibal in 2014 and Ellen Harvey: Museum of Failure, published by G. R. Miller & Co. in 2015.
Artist's website: http://ellenharvey.info