From Africa to Brooklyn: From Great to Great at MoCADA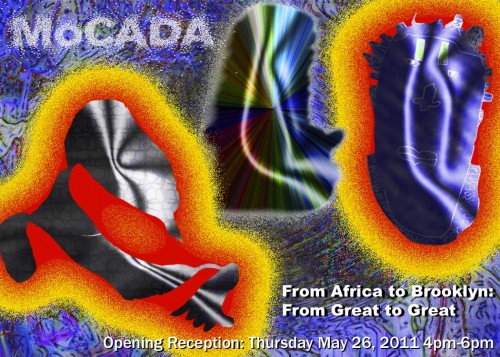 From Africa to Brooklyn: From Great to Great
May 26, 2011 to June 26, 2011
Artists in School Exhibition
Organized by: Ruby Amanze
Opening reception: Thursday May 26, 2011 4:00-6:00 PM
The Museum of Contemporary African Diasporan Arts (MoCADA) proudly presents the 2011 student exhibition From Africa to Brooklyn: From Great to Great. This exhibition will showcase the work of students from six Brooklyn schools:
P.S. 3/The Bedford Village School
M.S. 57/The Ron Brown Academy
M.S. 265/Dr. Susan S. McKinney School
Bedford Academy High School
Benjamin Banneker Academy
Brooklyn Community Arts and Media High School.
Work included in this year's exhibition ranges from digital photography, video, installation, screen-printing and sculpture. From Africa to Brooklyn will be on view at MoCADA from May 26th to June 26th, 2011. Please join us for the opening reception on Thursday May 26th, from 4:00 to 6:00 PM.The event will include an awards presentation as well musical entertainment by the Jazz Club of Benjamin Banneker Academy and food provided by Syd's Serious Sandwich Shop.
This exhibition is created through MoCADA's Artists-in-Schools (A-I-S) program where teaching artists work in K-12 schools throughout Brooklyn to initiate and blossom young student's artistic talents. From Africa to Brooklyn culminates twenty-five weeks of hands on art explorations, field trips and presentations by visiting artists. The participating students created artwork as an interpretation of their African and Diasporan roots in connection to contemporary Brooklyn.
MoCADA
80 Hanson Pl. #102
Brooklyn, New York 11217