Melissa Staiger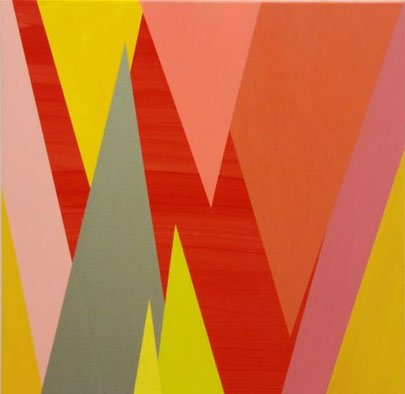 Red Background, Acrylic on Canvas, 30" x 30", 2010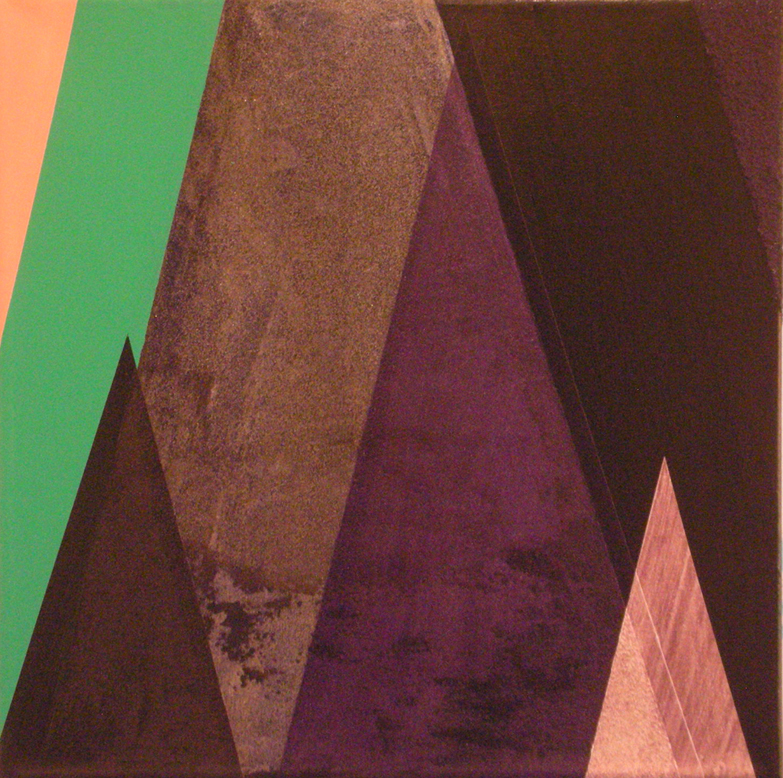 Florescent Triangle, Acrylic on Canvas, 24" x 24", 2010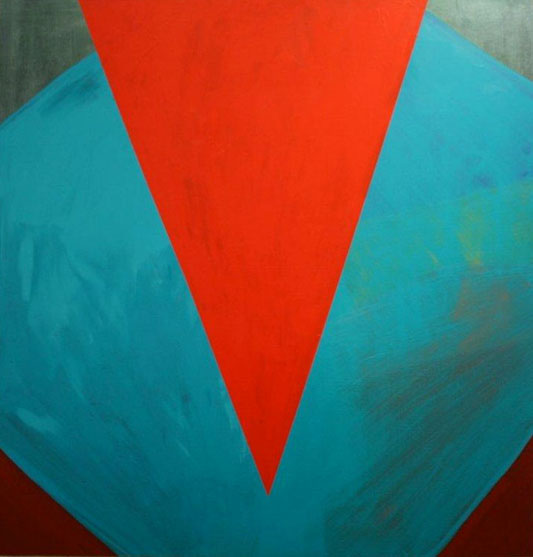 Rebel Girl, 5′ x 5′, Acrylic on Canvas, 2010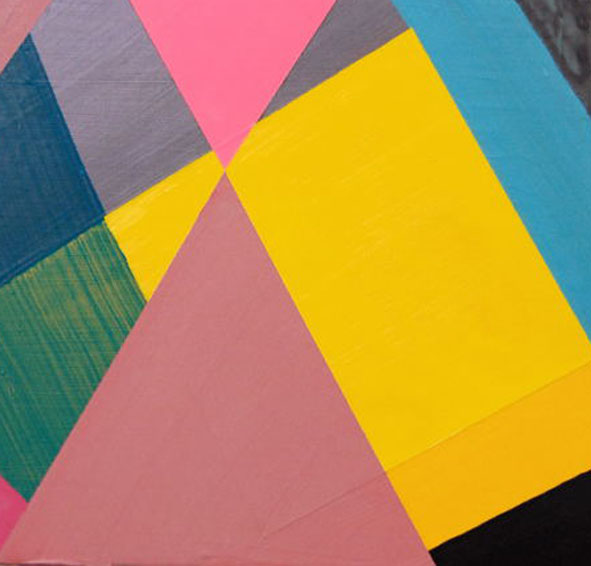 Constructivist, Acrylic on Panel, 12"x 12", 2010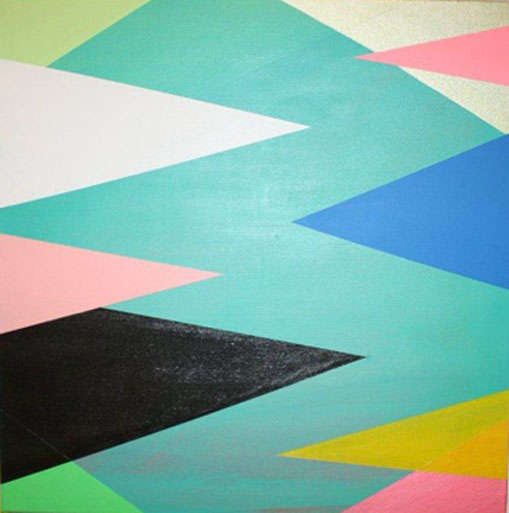 Fractured, Acrylic on Canvas, 30" x 30" 2010
Artist Statement
Being an American, I am a mixture of heritage but far removed from the original lineage.  In the past six months I have been put in touch with my roots in two ways.
First, by being included in an art exhibition where I was the only artist who showed up. The show was titled "Contemporary Traces in Native American Art" curated by Ginny Butera.  I was honored when Juane Quick-to-See Smith (one of the artists in the show) contacted me.  Feeling extremely humbled by the experience, she empowered me to connect to my Cherokee roots and understood how my connection was severed because my great-grandmother had to powder her face to look white.
That was in the spring and at the end of the summer, I went to Switzerland.  (This being the second way).  I went there to meet my partner's family and was blown away by the landscape and felt very connected to it, almost like I had been there before.  I felt like each mountain seen was digested in my psyche.
These two very real experiences have lead me to create a new body of paintings and work on paper. The paintings on canvas and panel are made with acrylic paint, glitter, textured mediums and varied metallic and pearlescent surfaces.  I use tape to create clear lines for triangles which makes sharp points to reinforce their presence.
I use color to create pulsating combinations.  Experimentation with hues and surfaces pushes the work in constant new directions. Triangles, color, composition, and space are ideas I use to build a painting. I paint intuitively so if that doesn't formally work, I paint over it and leave the under paintings as traces behind as texture and history.
The triangles can be viewed as mountains, trees, direction, the idea of balance, teeth, and or devil horns.  All of which I think about and then don't at the same time.  I feel if I start to give the painting a theme in the begging of its creation, it will lose out.  Each of the paintings holds a variety of information, which ends up being very formal.
I give the paintings titles, to clue in the feeling and emotion that they communicate to me. "Rebel Girl" is titled after a Bikini Kill song, which has place in riot grrrl history or rather herstory.  I gave the painting this title because the blue was very rebellious against the red.  The big red triangle reminded me of "The Dinner Party" by Judy Chicago which to me is significantly about presence.  That same idea of presence is what I think about with each shape and color I paint.
Upcoming Exhibit
Melissa's work will be included in a group show titled "Vicariously Through You" at the Wilmer Jennings Gallery 219 East 2nd Street, in NYC. The exhibition opens on Wednesday, March 9 with a reception on Friday, March 11 and artist talks on Sunday, March 13. There will be a color catalogue of the exhibition with an introductory essay by art critic, Jonathan Goodman
Website
www.melissastaiger.com