Jessica Baker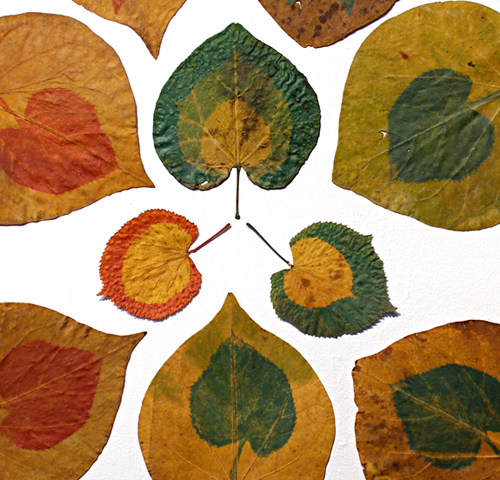 Centerpiece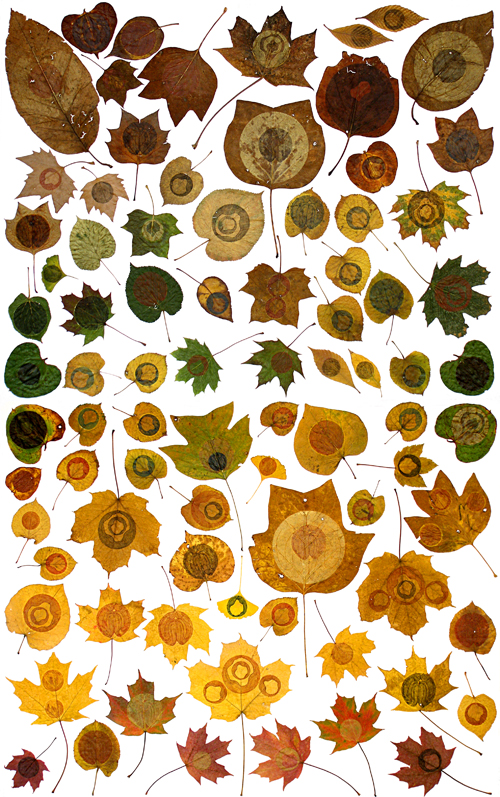 Multiple Leaf Print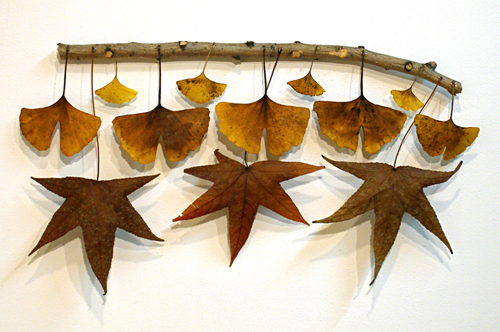 Leaf Relief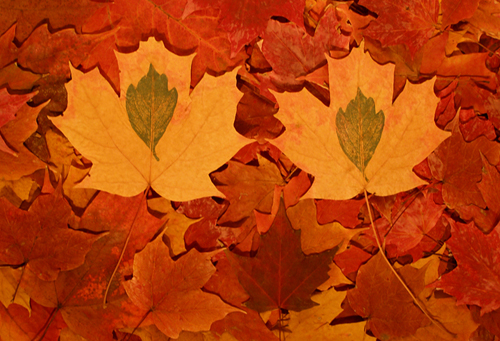 Pile of Maples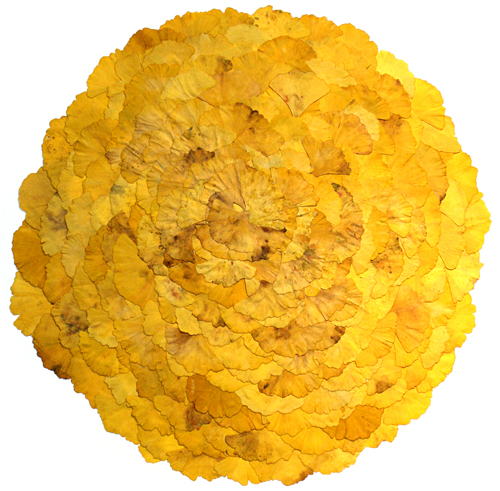 Ginkgo Leaf Circle

Artist Statement
In 2007, while walking home from my studio on a rainy Fall day and looking down at sidewalks covered with leaves, it occurred to me that the damp, resilient surface of a recently fallen leaf might be able to hold the image of a small, circular copper plate I had recently finished etching. Soon afterwards, I began to experiment with printing on fallen leaves collected from the streets and parks around Brooklyn. As a result, I created an initial series of single and multiple leaf print arrangements using circular copper plate etchings and Plexiglas plates in various combinations to print etchings, monotypes and monoprints directly on the leaves. Several of the arrangements contained leaves with no prints on them at all and some I attached to small branches and suspended with fishing wire to create three-dimensional leaf mobiles.
In 2008, I continued collecting leaves, and began to print monotypes on paper, monotypes directly on leaves, and soft ground etchings of leaves on leaves, while continuing to create new leaf arrangements and mobiles. By the Spring of 2009, I started collecting hundreds of Samara seeds produced by budding Maple Trees and used them to create new monotypes.
I am interested in how the use of the leaves and Samara seeds to make prints on paper removes the plants from their usual context and imbues them with a permanence that does not exist in the natural world. I use multiple plates and colors, along with carefully executed arrangements, endeavoring to make intricate, multi-layered images and patterns that transcend the singular identity of the individual leaf or seed. Yet, somehow I am preserving the memory of each plant's passage through the world, even while interrupting nature's intent.
I am also interested in the process of how the leaves are transformed into art objects. I use the botanist's method of drying and flattening the leaves to preserve them, but they are not chemically treated. Interestingly, a similar technique is used by printmakers to dry and flatten dampened paper after printing. Dried plants can last for hundreds of years, but they have a limited life span. Eventually, the leaves I've used will decompose, but the decomposition is designed to be an ongoing and evolving feature of the artwork and functions as a metaphor for life as well as for art.
By using a leaf that has fallen from a tree in November or a seed that has fallen from a Maple Tree in May, I endeavor to capture a moment in the growth and life cycle of a tree and to convey its transient beauty. It is perhaps this ongoing transformation through the inexorable passage of time, this mirroring of life, that has the greatest effect on me.
Biography
Jessica Baker lives and works in Brooklyn, where she collects her materials from the streets and parks of Brooklyn, and creates all of her own prints on a table-top etching press in her studio near the Brooklyn Navy Yard. Her artwork has been presented in solo and group exhibitions throughout the United States and internationally.
Jessica will create her first installation, Seasonal Fall, opening December 4, 2009 in the window of the Soapbox Gallery in Brookyn. From June – August of 2009, Jessica's work was featured in the exhibit The Nature of Being curated by the Flanders Art Gallery in Raleigh, NC for the Greenhill Center for the Arts in Greensboro, NC. From January – March of 2009, Jessica's prints and leaf prints were featured in the exhibition Ancient Echoes in Contemporary Printmaking at the Hofstra University Museum in Long Island, NY. In 2008, Jessica's mixed media leaf work and circular prints were featured in two solo exhibitions, Leaf Circle Line at the Lifebridge Foundation in Rosendale, NY and Leaf & Circle, at the Prospect Park Audubon Center at the Boathouse in Brooklyn, NY. In 2007 and 2008, her work was exhibited at the Galería Nacional and the Dar(t)do Gallery in San José, Costa Rica, the Flanders Art Gallery in Raleigh, NC, the College of Notre Dame of Maryland's Gormley Gallery in Baltimore, MD, the George Washington Carver Gallery at the Magnolia Tree Earth Center in Brooklyn, NY, the Monroe Center for the Arts in Hoboken, NJ, the JMS Gallery in Philadelphia, PA and the Arlington Art Gallery in Poughkeepsie, NY. In 2006, Jessica's work was featured in a traveling exhibition, Four Points of View: Figuration in Printmaking, presented at the Galería Naciona in San José, Costa Rica and the Dutchess Community College's Washington Art Gallery in Poughkeepsie, NY.
In 2007, Jessica was awarded membership in the National Association of Women Artists (NAWA). In the past five years, Jessica has been awarded three artistic residencies at Weir Farm in CT, Skagway National Historic Site in Alaska, and The David and Julia White Artists' Colony in Costa Rica. In May 2005, she was awarded an etching fellowship at the Women's Studio Workshop in Rosendale, NY.  Her work has been collected privately and is also in a number of public collections.
Website
http://www.jessicabaker.net
Upcoming Exhibit
Seasonal Fall, will be presented by the Soapbox Gallery at 636 Dean St. between Carlton & Vanderbilt Avenues in Brooklyn.  It can be viewed daily from 12 – 10 p.m., December 4 – 17.  During the opening reception on Dec. 6 from 4 – 7 p.m., attendees are invited into the gallery for refreshments and an exhibit of additional artwork by Baker, as well as the related sculptural work of Soapbox Gallery founder, Jim Greenfield.