Karen Connell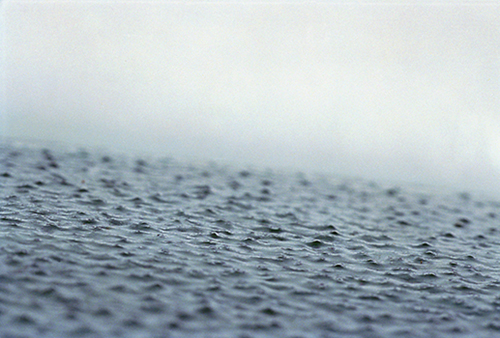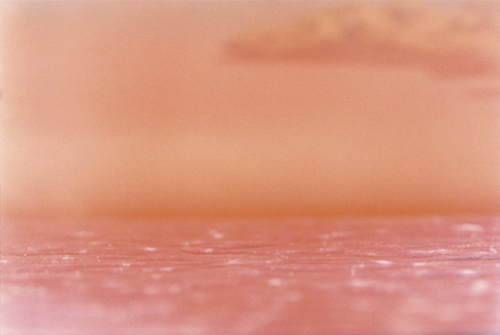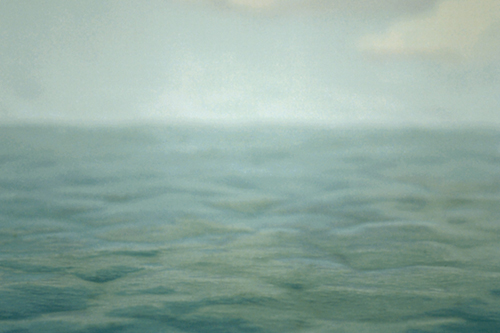 SEASCAPES
The seascapes are a series titled "Anywhere But Here". The series consists of 436 different scenes.  The water is actually 1/8″ thick pieces of clear, vacuum-formed plastic.  The varied molded forms create the wave structure. The water color is created by placing layers of acetate underneath the plastic.  The coloring and sky are created with lights and backdrops.  The entire construction is eight inches square. I shot the scenes with a 35 mm camera using a macro lens.  I chose to shoot this small film size so that the image would be grainy when enlarged. The photograph then literally breaks down.  This is intended to reinforce the idea that the image is a simulation.  They have been shown singularly and as installations of between 1,113 and 2,712 images mounted to walls (each photo is 4″ x 6″).
ARTIST'S STATEMENT
Postcards, billboards and magazines instill in us a desire to be physically and emotionally transported to "a better place".  We see digitally enhanced, perfectly-lit and styled homes, gardens and people. These commercial images are merely representations, completely unattainable. These constructions are meant to instill longing in the viewer.
I, too, create such non-places: images that appear real, but are, in fact, simulations. I construct images of locales, persons and lifestyles. My work is meant to isolate and emphasize the desire for the other, which is, in the end, just a creation. The viewer is left to consider this cycle of desire and dissatisfaction.
We peruse decorating and travel magazines, read adventure travel stories and scan billboards. These things instill in us a desire to have and/or be somewhere else, someone else, but some place where all our wants may be fulfilled.
Born:Chicago, 1970.
Lives and works in Brooklyn.
EDUCATION
MFA-Rhode Island School of Design
Providence, RI(1995)
B.A-DePauw University, Greencastle, IN (1992)
Parson's School of Design, Paris, France (summer 1991)
Essex University, Essex, England (1990-91)
WEBSITE
http://www.karenconnell.com