Pamela Enz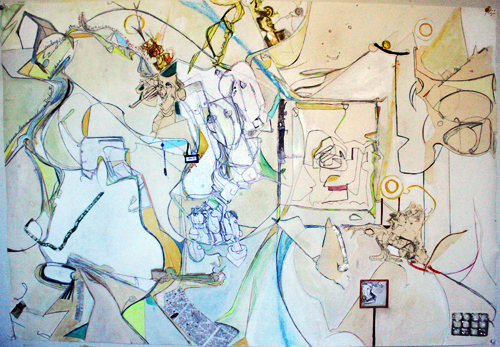 "I Have Been Circling God " – Oil, paper, ink and cut plastic on canvas – 36×53 inches
"  ….circling round that great tower and I still don't know if I am a falcon, a storm or a great song" – Rilke.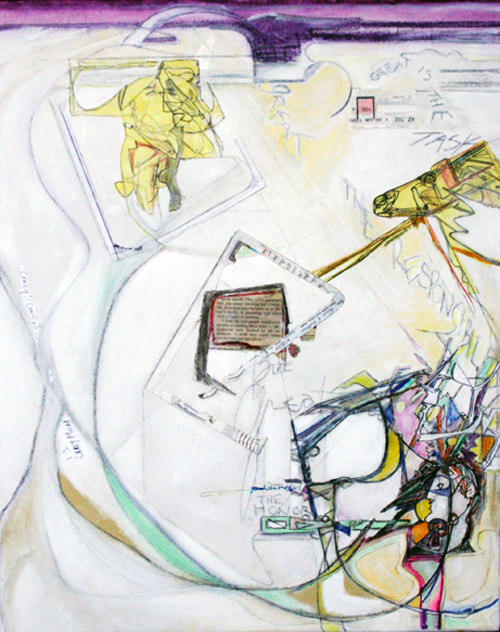 "Down Here" – oil, cut paper, ink on canvas – 16 x 20 inches
I started this piece after reading personal accounts of the mostly anonymous builders of our grand public spaces.   One worker Mr. Kumaran  ".. I wish the rich people would realize who is building these towers, I wish they would come and see how sad this life is."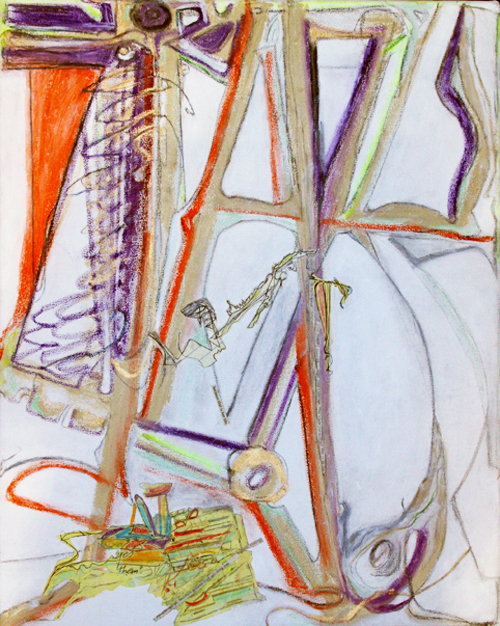 "Traveling Thru" – oil, paper, crayon, ink on canvas – 20 x 26 inches
I struggle to put this one into words, as it was driven by the impalpable. It concerns the sense of aloneness common to all creatures big and small.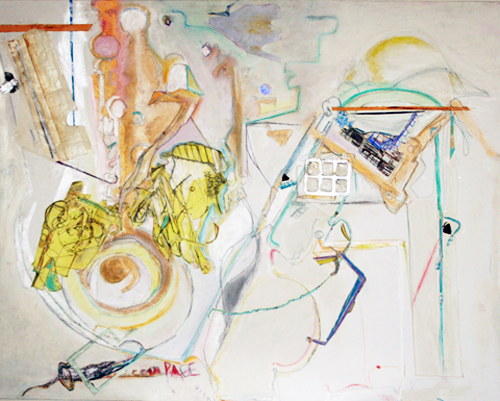 "Re:Henry"- oil, paper, plastic, pencil shavings on canvas – 36 x 26 inches
I completed this piece after the death of my best friend Henry forcing myself to go on out of respect for him and who he was. It was just one of the numerous gifts of his friendship.
Artist Statement
Over the past decade I have worked as a performance artist, a filmmaker and visual artist. Most recently I have been working on ever expanding collage. I start with a collection of my own drawings which I then tear, cut and layer before pencilling and painting into them. They are on both paper and canvas. Often however the foundation of a piece is text – most often my own – but also a range of words that haunt and continue to inspire. Some I have taken from the sublime ( the poet- Rilke ). Others from the absurd ( The New York Post ).
Biography (partial)
Exhibitions – Recent Work
ArtWalk 2008   Brooklyn , NY July 2008
Incongruities 2.0 – Ashawagh Hall East Hampton, NY July 2008
Private Viewing – Sunday Afternoon Series. Brooklyn Heights –Nov 2007
Letters to Joan  Emergency Arts – solo – collage –  NYC  – April 2007
Recent Works  Emergency Arts – group show – NYC- November 2006
2006 Square Foot Show – Art Gotham   NYC  – March 2007
Incongruities   Ashawagh Hall – East Hampton, NY. – March 2006
Cryptopsychographies  Tin Garage – Tarrytown, NYC – December 2005
Traveling the globe Ms. Enz exhibited in Corfu, Paris and Tel-Aviv as well as stateside at Hofstra University, East Hampton, North Shore Arts and NOW in NYC.  Due to the toxicity of materials and the proximity of her newborn daughter she worked to become a performance artist, filmmaker, and playwright. After winning a second Edward F. Albee Fellowship for writing which included a residency at The Barn in Montauk, she began with Mr. Albee's encouragement to incorporate her own text into large collage which she now uses as a backdrop for performance work. They also stand alone as works of art .
More Information